Description
Contains Rice Bran Oil, Bees Wax gentle fragrance of beeswax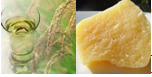 Our most popular massage wax contains essential nutrients for the skin.  Softens, re-hydrates and nourishes most skin types.
A must in all therapy clinics as the Pure Blend is ideal to use for children, pregnancy, hyper-sensitive, the elderly and those with diagnosed health conditions.  Pure massage wax contains no Arnica and can be used for most people with health related issues. You may add your own essential oils to the mositurising Pure Massage Wax to create your own unique blend.
Moisturizes Skin
Beeswax is an amazing way to moisturize the skin. It can help protect and repair rough, dry or chapped skin because it has the ability to lock in moisture.
Beeswax has rich vitamin A content and emollient properties, which soften and rehydrate the skin.  Another benefit to its use is that because it is noncomedogenic, it won't clog pores.
In addition to being a natural moisturizer that treats dry skin, you can use it daily to help prevent dry skin in the first place. Just combine beeswax with almond oil or jojoba oil, a few drops of vitamin E oil and aloe to prepare a homemade remedy for dry skin.
If you are looking for a Massage Wax with essential oils already added you might like Sports Massage Wax